Archive for the 'Entertaining' Category
This woman has the right idea:
"Just put the turkey in the fucking oven."
Again, the hat tip goes to Gerard.
Really, as someone that has cooked the turkey for family gatherings for over 20 years, it won't turn out perfect and, because it's turkey, it will taste like cardboard. The drinks are the key to the whole thing. We are having a smoked turkey. To go with that we are going to have afternoon cocktails (during the Cowboy game) that will include cranberry margaritas. I'm also going to do a leg of lamb, so we'll also have red wine and tasty beer with dinner. The key to a good Thanksgiving dinner is managing your guest's alcohol consumption.
Update for 2014: We are probably going to have a more conventional Thanksgiving menu this year. Last year's was great, but we do have to mix things up a little. No mashed potatoes though. I'm going to grill slices of polenta instead.
A repost:
From Hulu, here is the entire episode:
For those of you who remember the episode, here is one of many youtube cuts that boils  the whole thing down to its essential core:
Now I'm going to go find the Chinese food episode from Bob Newhart.
Bob did a really good job of managing his property. His stuff is not available for free.
Well worth your 11:45. Really, I don't know that I've laughed as hard in a while:
I found this on Gerard's site.
To start thinking about apple pie…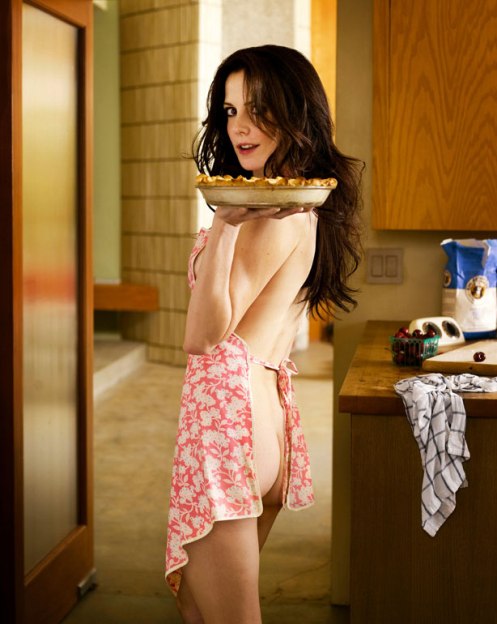 That would be an interesting outfit to serve dessert on Thanksgiving…
Sailer is a national treasure. He deserves a much wider readership. A small sample:
How can the New York Times and the Obama Administration do their job of telling you what to think about this Defining Event of our Times when the local cops are free to release a security camera video on the Internet for the whole world to view? It's just not fair: the Obama / Media Industrial Complex has all these highly expensive methods and minions for the engineering of human souls; yet a few wreckers at the local police force can undermine all that power and prestige just by posting evidence on Youtube.
Go read the whole thing. Go spend hours over there. Very enjoyable stuff. The comments are often great too.