I left the island at 10:00pm Saturday night. Landed in Nairobi at 1:00am. The organizers of the trade junket said they had arranged hotel rooms for us as we had a 5 hour layover. We went off to the hotel. When we arrived at the hotel, we were told to take a seat in the lobby while they got us registered. They also said they would make us some coffee. What happened next was quite amusing. I must have written my name and passport number down on four different forms while sitting with my fellow travelers in the lobby. I complied with all of the requests, without maikng my usual comments about the inefficiency of what I was witnessing as the registration process. This was all supposed to have been arranged beforehand. All this registration activity took so long (it took forever to get the coffee too) that we told the hotel is was too late and we had to get back to the airport.
We went back to the airport went through the whole check in and customs clearance line dance and took a flight from Nairobi to Dar es Salaam. The highlight of the trip so far: it was a beautiful morning and we flew right over Mount Kilimanjaro (my camera was not available). It is kind of fun to see in person, even from a plane, a place you've heard so much about through the years.
When we landed at Dar es Salaam, I was singled out for special treatment by Tanzanian customs. Since I was tired, I have no doubt I had a look that said I was a great target for which petty tyrants could practice their techniques. When I caught up to my travelling party, I learned that more than half of them were missing their luggage! I managed to escape that little adventure. We finally made it to the hotel. I am paying $90.00 per night for this room. That's right, $90.00. I'm not paying in Tanzanian Shillings, I'm paying in dollars.
This is the bathroom: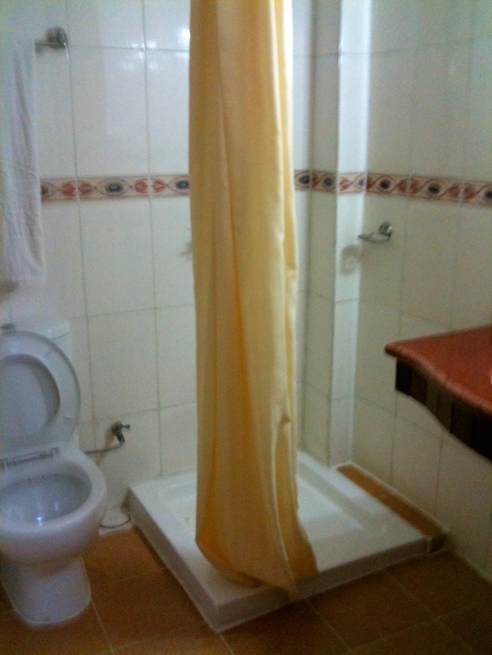 I will admit, that while of poor quality, the room is clean.
I could get way better than this for $90.00 a night in Dallas! I could probably get a weekend deal at one of the nice hotels downtown for less. This is part of a discounted package deal from the normal rates and was selected by the organizers of this trip.
The thing that really sucks about this hotel is that they don't sell any liquor. I don't know who set this trip up, but the culture of the island is really big on feedback forms. I can't wait for the opportunity to fill mine out.