Archive for the 'Dallas' Category
The following is a work in progress:
All,
Ted and Anne asked me, in advance of the sales meeting in February, to address the new company policy on sexual harassment.
Many of you may be wondering why I was asked. It really is simple. I'm clearly the best person in the company to address this issue because as we've all heard me say a hundred times, "I'm all by myself in Dallas."
My first day of work was the Immaculate Inception. Hence, I'm without original sin. There is no one here for me to harass. Even if I wanted to, which I don't since I've never been one to harass. Since working conditions are what they are for the rest of the company, Anne and Ted have recognized that I'm best suited to address the topic.
So without further explanation, let me address how we are going to handle ourselves at the sales training session.
First upon arrival at the sales meeting: There will be absolutely no touching. This includes "faire la bise." We are reviewing this cheek kissing thing and are considering making its practice a firing offense. When this is decided upon, we will make any updates in the personnel manual available on the X drive. You will have to acknowledge that you've read the incorporated updates.
Second: Since we're not going to allow any cheek kissing, it follows that we are going to make hugs out of bounds too.
Third: handshakes are questionable conduct too.
If there must be any physical contact between employees fist bumps are considered the least harmless.
But let us be clear: exploding fist bumps will not be allowed as that clearly leads to a workplace that harbors violence. Exploding fist bumps will result in security being asked to escort you off the premises of the sales meeting. And those Miele guys are tough!
Suggested manner in which to greet the coworker you've not seen for a year or more: Simply nod your head in their general direction. Smiles are discouraged as some of you may smile in a brighter fashion toward favorites and less brightly towards those you don't know as well.
It's the third day of the new Trump administration.
Nothing has happened.
The post immediately below.
She's coming back.
Shit.
Merry Christmas.
The Felon…
We went out for dinner tonight. Mrs. WhiteRock and I, the Ace, the Deuce, and my parents. We went to Cold Beer Company.
My father had two beers. He doesn't drink much these days. Two Miller Lites is a big night.
He told a story about going from Chicago to Lake Geneva, Wisconsin for the weekend. He said he was about 20 and that there were he and five friends. He said that Bob Tarpley (RIP) was the ring leader. They checked into a motel in the town of Lake Geneva. They drove to the other side of Geneva Lake to Fontana to go to some bar.
My dad said, in front of my mother, that they went over to Fontana to look for girls.
He also said they had a big time.
When last call was over, and the lights came up, it was my dad and Tom Whitaker (RIP). The other four could not be found. My dad and Tom figured that they had been left behind. They sat on the curb outside the bar and wondered what they could or should do. The lights went out at the bar and the parking lot. They were sitting in the dark. They were there in Fontana on the shore of Geneva Lake with no way home and no way to get a ride. The town of Lake Geneva was about 12 miles across the length of the lake.
My dad says they looked out at the water and saw a dozen boats tied up to mooring buoys. He said he turned to Tom and said, "We could take a boat."
Tom said, "Which one?"
My dad said, "There's a Chris-Craft."
So they swam out past all the little fishing boats with the 5hp outboards and reached the Chris-Craft tied up to a mooring with a cover on it. My dad says he reached under the mooring cover and could feel the keys in the ignition. He says they climbed aboard and threw the mooring cover into the water. They untied from the buoy and started the engine.
They took that boat to the other side of the lake.
Worried that they might get caught, they ran it aground about a half mile from their motel and walked the rest of the way.
He told the story in front of the Ace and Deuce!
Mrs. WhiteRock was not happy. Especially since the rest of us were laughing so hard.
My favorite part is that they threw the mooring cover into the lake. They didn't just stuff in the back of the boat… They left it behind!
It's a previous post.
Gunfire on the other side of the bridge tonight. Lots of it.
The really disturbing part is that I never hear sirens after one of these shootouts.
It is an ocean of Section 8 housing on the other side of that bridge.
My alma mater, the University of St. Thomas, will play the hated Purple Raiders of Mount Union tomorrow night at 6:05pm CST in the Alonzo Stagg Bowl. This will be Mount Union's 11th straight trip to the championship game. The Tommies were last there in 2012. A game that was lost to Mount Union.
I'm going to watch the game at Community Beer Company located at 1530 Inspiration Dr., Suite 200, Dallas, TX 75207.
Come join me for a Mosaic or Public Ale. Heck, come join me for whatever of their beers you might like.
It will be interesting to see if this post on my unread blog gets any notice…
Probably not.
But if you're a St. Thomas alum. The watching party in Dallas is at Community Beer Company…
I don't think, oh I don't really know what to call them, other than the uniparty, don't understand the American people very well. It appears to me that Trump does. The members of the uniparty getting their panties in a wad:
Among religious groups and politicians from both parties, the repudiation of Trump's remarks was swift and severe. Trump is "unhinged," said one Republican rival, former Gov. Jeb Bush of Florida, while another, Sen. Marco Rubio of Florida, called the proposal for a ban "offensive and outlandish."
And:
Hillary Clinton said the idea was "reprehensible, prejudiced and divisive." Organizations representing Jews, Christians and those of other faiths quickly joined Muslims in denouncing Trump's proposal.
Source: Trump takes heat after call for 'complete shutdown' on Muslims entering U.S. | Dallas Morning News
I'm willing to admit, it's now hot in Dallas.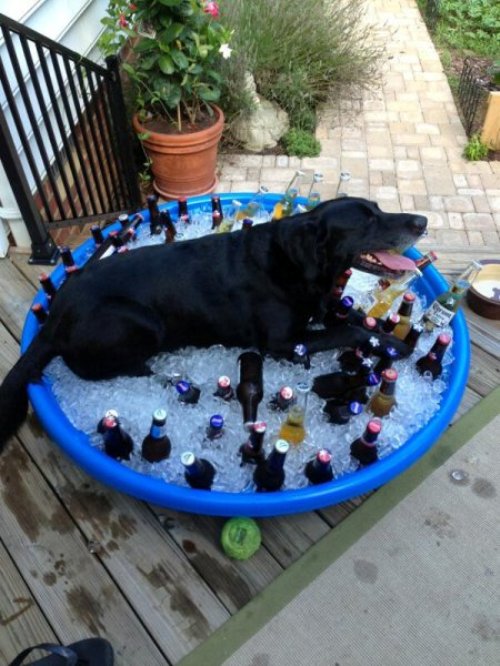 Pic from Maggie's.