Archive for the 'Dallas' Category
Page 2 of 11
My alma mater, the University of St. Thomas, will play the hated Purple Raiders of Mount Union tomorrow night at 6:05pm CST in the Alonzo Stagg Bowl. This will be Mount Union's 11th straight trip to the championship game. The Tommies were last there in 2012. A game that was lost to Mount Union.
I'm going to watch the game at Community Beer Company located at 1530 Inspiration Dr., Suite 200, Dallas, TX 75207.
Come join me for a Mosaic or Public Ale. Heck, come join me for whatever of their beers you might like.
It will be interesting to see if this post on my unread blog gets any notice…
Probably not.
But if you're a St. Thomas alum. The watching party in Dallas is at Community Beer Company…
I don't think, oh I don't really know what to call them, other than the uniparty, don't understand the American people very well. It appears to me that Trump does. The members of the uniparty getting their panties in a wad:
Among religious groups and politicians from both parties, the repudiation of Trump's remarks was swift and severe. Trump is "unhinged," said one Republican rival, former Gov. Jeb Bush of Florida, while another, Sen. Marco Rubio of Florida, called the proposal for a ban "offensive and outlandish."
And:
Hillary Clinton said the idea was "reprehensible, prejudiced and divisive." Organizations representing Jews, Christians and those of other faiths quickly joined Muslims in denouncing Trump's proposal.
Source: Trump takes heat after call for 'complete shutdown' on Muslims entering U.S. | Dallas Morning News
I'm willing to admit, it's now hot in Dallas.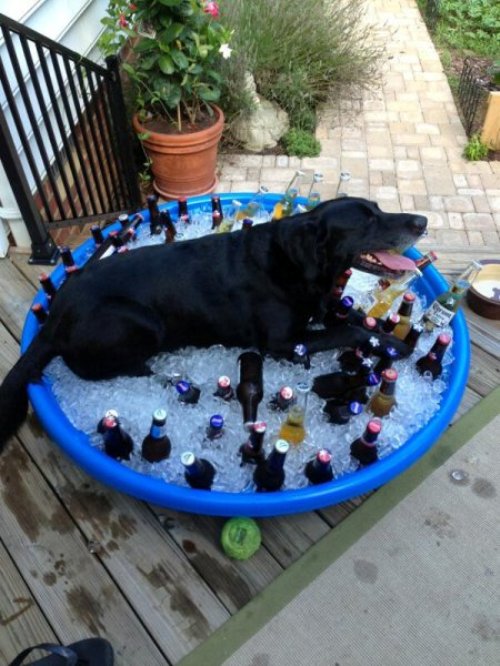 Pic from Maggie's.
Yeah, he was a knucklehead. He's 19. It goes with the territory.
I just get a little frustrated that events like this aren't just dealt with in the usual manner: social shunning, etc. The OU administration did not need to pile on. It may have been a bad idea for them to do so. I think OU president David Boren should have done nothing more than to guaranty the physical safety of all the SAE fraternity brothers, by making a clear public statement to the effect. When the usual braying hounds of the media and the professionally offended asked him what sort of punishment he and the University were going to mete out, he should have said, "I and the administration of the University of Oklahoma will need to do nothing. The wonderful students of this university will handle the issue with more speech and better speech. It is already happening."
But the Volunteer Auxiliary Thought Police are everywhere. I bet they reside in above average numbers in college/university administration. They have demanded their sacrifice.
A teaching moment is lost.
I get even more frustrated with events like this spilling over into areas that really have a limited connection. Is it reasonable to expect all the graduates of Jesuit Dallas to be excellent young men? Jesuit is a special place, but since it is run by humans and has humans for students, it's not perfect.
This all hits close to home. The Deuce goes to Jesuit and he has been considering OU.
I know this stink will fade with time. And I would kick that kid's ass (and the other one) if he was my son, but this should not ruin the lives of 19 year old young men.
Social media sucks and I need to make certain the Ace and the Deuce know that.
I'm not an attorney, but I've been doing a little studying on the issue lately (more to come). But the non-compensatory, or exemplary, or punitive damages for Docs is limited to $250,000 per incident. The same is true for hospitals.
This cap was instituted with the law change in 2003 and was not indexed to inflation.
I find this to be a grave injustice.
I won't be able to drive a certain prick out of business. I so want to do so that it hurts. He should not be allowed to ever operate again.
I may start dropping his name soon. I need to know more. I do know that my opinion is safe due to the 1st Amendment, but I have other considerations.
I don't know how to color it any other way. You are on your own for health care. It doesn't matter who is paying. It doesn't matter if it's free to you. You have to pay attention. You have to raise your voice. No one is going to return your calls. So when they offer, just tell them, "You and I both know you are not going to call back. How long do you want me to wait before I call you back to remind you I need help."
Motherfuckers…
And I do not like what is coming.
I'm talking about medical care. It is going to really suck when I get to the age that I require more medical care.
I was driving the wife to various appointments this week. It was an awful experience. There is no medical care. There are only specialists performing procedures. There is no coordination between specialists (unless they think a malpractice suit is in their near future).
You will have to be your own general contractor when it comes to your healthcare.