Archive for the 'Economics' Category
I've noticed I've not posted anything for this month. I should do better. But… and there are many people that know this. A blog is a very time consuming thing to run well.
I'll be better.
I'm remodeling the kitchen, but I am leery of posting photos as I don't want the inspectors or the property tax people to know what I'm up to.
I don't see why everything should become taxable.
I should remove Dallas from the tags!
From an article on HubSpot:
Dharmesh's culture code incorporates elements of HubSpeak. For example, it instructs that when someone quits or gets fired, the event will be referred to as "graduation." In my first month at HubSpot I've witnessed several graduations, just in the marketing department. We'll get an email from Cranium saying, "Team, just letting you know that Derek has graduated from HubSpot, and we're excited to see how he uses his superpowers in his next big adventure!" Only then do you notice that Derek is gone, that his desk has been cleared out. Somehow Derek's boss will have arranged his disappearance without anyone knowing about it. People just go up in smoke, like Spinal Tap drummers.

Nobody ever talks about the people who graduate, and nobody ever mentions how weird it is to call it "graduation." For that matter I never hear anyone laugh about HEART or make jokes about the culture code. Everyone acts as if all of these things are perfectly normal.
When I worked for HP we, at least those in my little group, called graduation getting shot. As in, "Did you hear that Derek got shot?"
Arnold Kling agrees with me (and Glen Reynolds):
I suspect that the romanticization of college sports comes from the same human tendency that produces the romanticization of government. Lots of people will tell you that they hate pro football and hate pro basketball, but they love college sports. Because it is non-profit.
Source: The Libertarian Solution to College Sports | askblog
I share Arnold's general antipathy toward non-profits.
One need only have kids the age of the Ace and Deuce to hate the draft registration. It becomes even more aggravating while the Ace flirts with conventional feminism (I do think this is a passing phase, a result of her being a senior in college. While at an all girls high school she had a much better idea about feminism.) The Deuce had to register for the draft. The Pentagon has just opened up all combat billets to women. So why does the Deuce have to register for the draft and the Ace doesn't?
Volokh:
The Pentagon's recent decision to open virtually all combat positions to women suggests that the days of male-only draft registration are likely to be numbered. But the best way to achieve gender equality in this field is not to force women to register for the draft, but to abolish draft registration for all. That way, we can achieve both equality and freedom for men and women alike.
Source: The Volokh Conspiracy
And while we are at it, why are those that are forced to register for the draft unable to buy a drink? This is a completely unacceptable state of affairs.
When I want to watch a game, I go to a friend's house or a bar.
Don't buy ESPN's PR talk that its 7 million-household dip in subscribers is just a blip. It's for real, and it will have serious consequences for the way you watch sports.
Source: The Sports Bubble Is About to Pop – The Daily Beast
ESPN has lost 7 million subscribers over the last two years. What you should understand is that many of the lost subscribers were not sports fans, so the ratings are not yet effected. These people decided they didn't need to pay ESPN $10 a month (or more) for sports they don't watch.
This is going to have a great deal of impact on the sports business. It will change Big State U's athletic program too.
Naturally don't take this as advice to go short Disney, as this decline can go on for a long time before it becomes calamitous.
More Crime Think from Sailer.
In the comment thread there is this hilarious exchange: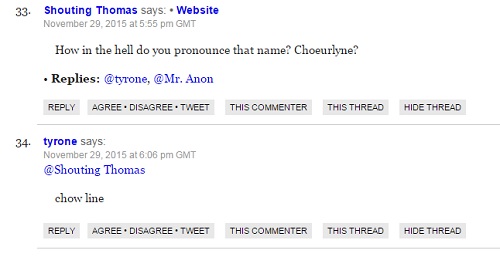 I don't think I've laughed so much at the written word in a long time.
I design kitchens using a premium European brand of cabinetry. I work for the U.S. arm of a European firm. We are going to have a price increase the first of January. We are having a price increase in the face of the Euro being at a low compared to last year, and this little bit of news:
Freight prices are at record lows not just due to weak demand, but overcapacity in shipping supply.
Source: Flexport
Just a bit from the post:
It costs $300 to move a 40-foot container from Rotterdam to Shanghai, which is barely enough to cover the cost of fuel, handling, and Suez Canal fees. Here's some more context. Let's say that you want to travel for a year; it's cheaper to put your personal belongings in a shipping container as it sails around the world than to keep it at a local mini-storage facility.
There is a very interesting chart over there too.
I've already asked once about the justification for the price increase. And like the good little soldier that I am, I will enthusiastically enforce the price increase. But… The economics of the situation tell me we should be getting a price decrease for the coming year…