Archive for the 'Economics' Category
I find this amusing. From ThinkProgress:
Chipotle Inc. is warning investors that extreme weather events "associated with global climate change" might eventually affect the availability of some of its ingredients. If availability is limited, prices will rise — and Chipotle isn't sure it's willing to pay.

"Increasing weather volatility or other long-term changes in global weather patterns, including any changes associated with global climate change, could have a significant impact on the price or availability of some of our ingredients," the popular chain, whose Sofritas vegan tofu dish recently went national, said in its annual report released last month. "In the event of cost increases with respect to one or more of our raw ingredients we may choose to temporarily suspend serving menu items, such as guacamole or one or more of our salsas, rather than paying the increased cost for the ingredients."
You can read the article here.
Nothing about a human response to changing climate. Like say, moving the avocado trees… Because if it gets really warm, there is plenty of room for avocado trees in Kansas and Nebraska.
I don't get it. I'm going to admit that I haven't read all the stories in detail, but that doesn't matter to make my point. Via Maggie's Farm, I would like to point out this photo from Ace: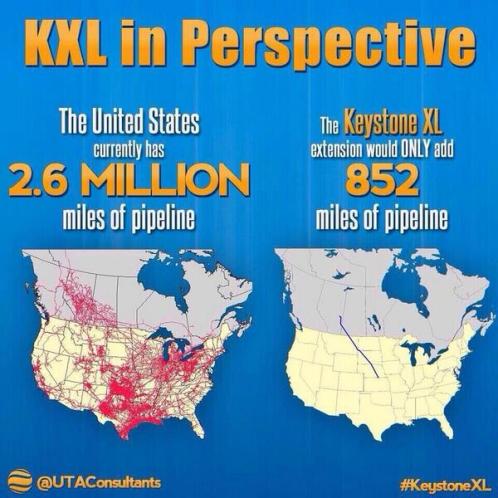 With all that pipeline out there, how do the people that want to build the Keystone XL continue to justify their project financially? I would think that after spending $X over the original marketing/regulatory approvals budget that the project would no longer make sense financially. I get that for the people opposed to this pipeline it is a fundamental religious principle (These people will worry, if the pipeline is ever built that Keystone XL energy may be commingled with their good energy in the same way Hindus and Muslims might worry about lard making its way into some of their food.) But the coldhearted, monocle wearing capitalists behind this project should eventually decide it is no longer worth it.
I've got to think the point of no return (financially speaking) was crossed long ago.
My trips to Whole Foods do not involve all the customers being like those described in the article linked below, but there are certainly a significant percentage of them. The more pieces of metal hanging off various parts of their face, the more likely they are going to be an angry Whole Foods shopper. From the article:
The problem with Whole Foods is their regular customers. They are, across the board, across the country, useless, ignorant, and miserable. They're worse than miserable, they're angry. They are quite literally the opposite of every Whole Foods employee I've ever encountered. Walk through any store any time of day—but especially 530pm on a weekday or Saturday afternoon during football season—and invariably you will encounter a sneering, disdainful horde of hipster Zombies and entitled 1%ers.

They stand in the middle of the aisles, blocking passage of any other cart, staring intently at the selection asking themselves that critical question: which one of these olive oils makes me seem coolest and most socially conscious, while also making the raw vegetable salad I'm preparing for the monthly condo board meeting seem most rustic and artisanal?
Read the whole thing. I was amused.
Via the Instapundit, we find this gem at The Other McCain:
Do you see what I mean about "credulous certainty"? If you begin with the assumption that the researchers have accurately measured something meaningful — West Virginia, land of opportunity! — and then start blabbering that "the researchers found" this, that and the other correlation, you're likely to end up making all kinds of foolish arguments, as Matthew O'Brien eagerly does:

The American Dream is alive in Denmark and Finland and Sweden. And in San Jose and Salt Lake City and Pittsburgh. But it's dead in Atlanta and Raleigh and Charlotte. And in Indianapolis and Detroit and Jacksonville. Fixing that isn't just about redistribution. It's about building denser cities, so the poor aren't so segregated. About good schools that you don't have to live in the right (and expensive) neighborhood to attend. And about ending a destructive drug war that imprisons and blights the job prospects of far too many non-violent offenders — further shrinking the pool of "marriageable" men.

WHAT THE FUCK ARE YOU TALKING ABOUT?

You have no clue, O'Brien. "Building denser cities" in rural South Georgia? "Ending a destructive drug war" in Eutaw, Alabama? The American Dream "alive" in Pittsburgh but "dead" in Charlotte? You're attempting to "solve" a problem you haven't even begun to understand, and in the process making yourself a public nuisance.
Go read the whole thing, it's great: Carts and Horses, Causes and Effects : The Other McCain.
In talking about the gentrification of San Francisco, Carl from Chicago closes with this point:
If you really want to look at long term opportunities I'd recommend property in Oakland. Oakland has a great location, it just needs to be terraformed via gentrification and rising property taxes until every activist and poor person is driven out, just like it is occurring today in San Francisco. Maybe this is a 20-30 year vision, but it will happen.
From: San Francisco and a Sneaky Win for the Red.
I think it is an idea worth seriously considering, but I don't have the time or the money. But I will pass this along to the Ace and Deuce. The Deuce loves California and may be interested in exploring this idea.
He has a terrific rant on college debt:
So he'll amass a gigantic debt, miss out on four or five years that could be spent honing his specific skillset, and end up exactly where he could have been, and would have been, without college. Only now he's 28 thousand dollars in the hole and half a decade behind the curve.
RTWA: Thank God I wasn't college material | The Matt Walsh Blog.
I'm going to start sending links to the Ace. She is contemplating transferring to a school where she would have to borrow money to finance her education. It's a bad idea, and I keep hammering on it.
Similarly, a century ago demanding whiteness was a way to fight corruption and adulteration in purchased food.

Today a fashionable diet item such as South American quinoa may look like ground-up bugs, but we trust that supermarkets couldn't get away with selling us ground-up bugs. (They can't, can they?) Back then, however, people didn't put much faith in grocery stores and restaurants, especially when they were traveling—and often with good reason.

Now, though, even if we get food poisoning we have antibiotics to keep us alive. The introduction of penicillin around 1945 made American life less fraught—the chance of dropping dead from bad bacteria declined sharply.
Sailer does an excellent job in this article making a "Chicago Economics" style of argument: When we observe people doing something odd or seemingly counter to their best interests, there must be a good reason.
From the Dallas Morning News Sports section TV listings:
College football

Gator Bowl: Nebraska vs. Georgia 11am ESPN2

Heart of Dallas Bowl: North Texas vs. UNLV 11am ESPNU

Capital One Bowl: South Carolina vs. Wisconsin noon Ch. 8

Outback Bowl: Iowa vs. LSU noon ESPN

Rose Bowl: Stanford vs. Michigan State 4:00 ESPN

Fiesta Bowl: UCF vs. Baylor 7:30 ESPN
Does anyone but me spot a problem here? I can't believe we have public, tax payer supported, institutions of higher learning with sports departments. But if we are going to have these public institutions putting on minor league football games, should we have to pay to watch them play out of town games? I don't think this will play well with the state legislatures. Someone will complain and notice will be taken.
Out of all the schools listed above, I bet not one of them has a cash flow positive sports department. Maybe LSU. But none of the others. And I do know that Baylor is a private institution.
Clark is a little angry today:
The older I get, the more I see, the more I read, the more clear it becomes to me that the entire game is rigged. The leftists and the rightists each see half of the fraud. The lefties correctly note that a poor kid caught with cocaine goes to jail, while a Bush can write it off as a youthful mistake (they somehow overlook the fact that their man Barrack hasn't granted clemency to any one of the people doing federal time for the same felonies he committed). The righties note that government subsidized windmills kill protected eagles with impunity while Joe Sixpack would be deep in the crap if he even picked up a dead eagle from the side of the road.
Maybe you have to suffer the sort of set back that I've experienced to feel the same way Clark does. My conventionally successful friends think I'm crazy when I spout off on stuff like Clark does in this post.
You really do need to go read the whole thing. It is very good. Burn the Fucking System to the Ground | Popehat.