Monthly Archive for March, 2015
This is hysterical:
Well worth your 6:17.
20 Most Beautiful Hotels in the World.
I've actually been to this one in Mauritius:
It's not like I took some wonderful vacation there. I was working on the island at the time and met some people there for drinks. It's kind of funny to me that every list of "best" hotels or resorts has one that is on Mauritius. To me the entire coast line of Mauritius pretty much looks like that photo. All the coastal/beach front hotels are wonderful.
The point of the island in this photo is just a few hundred yards down the road from the photo above.

The World's Most Opulent Outdoor Bathtubs | The Go List | OutsideOnline.com.
Check it out: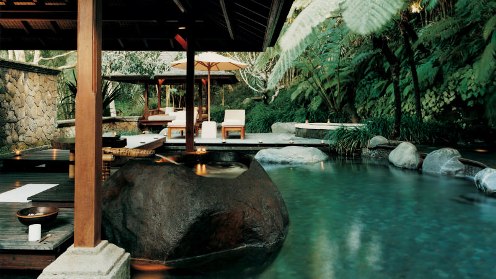 We could use a few of those tubs where I'm working now. The customers would enjoy them
Ferguson home values have plummeted almost 50 percent since Michael Brown's death.
From the article:
The average selling price of a home in the city has been on a steady decline since the shooting of Brown last August, according to housing data compiled from MARIS, an information and statistics service for real estate agents. Prior to Brown's death, the average home sold in 2014 was selling for $66,764. For the last three and a half months of the year, the average home sold for $36,168, a 46 percent decrease.
Eric Holder, Al Sharpton and all the others were not available for comment.
Now that last line may be harsh on my part but if you look at the whole Ferguson fiasco, from well before the shooting of Michael Brown through to today, you can not demonstrate how government is helping the citizens of that town.
Government seems to be actively hostile to people that are on the lower end of the wealth and income scale.
Scott Burns: How to live near the water without spending a million.
Scott Burns is down in Florida again. He does this trip every so often and writes about manufactured (read "trailer") homes. He is correct about the cost advantages. I am tempted to get in the car and go see the parks he mentions for myself. I know I can do with less space. Particularly if I could have a boat in the water within walking distance of my front door.
I have long dreamed of taking my design experience into the world of manufactured homes. When you look at the property that is available in Florida for manufactured homes, it is clear to me that there is a market for a luxury product. I don't mean luxury as the current manufacturers define it. I mean luxury with a trailer full of premium brand names.
I'm confident people would pay for it.
I'm also baffled (well not really, as there are many reasons) at why we all don't live in manufactured homes. I am probably not the guy to break through all the resistance to manufactured housing, but I would sure like to go to work for him.
Yeah, he was a knucklehead. He's 19. It goes with the territory.
I just get a little frustrated that events like this aren't just dealt with in the usual manner: social shunning, etc. The OU administration did not need to pile on. It may have been a bad idea for them to do so. I think OU president David Boren should have done nothing more than to guaranty the physical safety of all the SAE fraternity brothers, by making a clear public statement to the effect. When the usual braying hounds of the media and the professionally offended asked him what sort of punishment he and the University were going to mete out, he should have said, "I and the administration of the University of Oklahoma will need to do nothing. The wonderful students of this university will handle the issue with more speech and better speech. It is already happening."
But the Volunteer Auxiliary Thought Police are everywhere. I bet they reside in above average numbers in college/university administration. They have demanded their sacrifice.
A teaching moment is lost.
I get even more frustrated with events like this spilling over into areas that really have a limited connection. Is it reasonable to expect all the graduates of Jesuit Dallas to be excellent young men? Jesuit is a special place, but since it is run by humans and has humans for students, it's not perfect.
This all hits close to home. The Deuce goes to Jesuit and he has been considering OU.
I know this stink will fade with time. And I would kick that kid's ass (and the other one) if he was my son, but this should not ruin the lives of 19 year old young men.
Social media sucks and I need to make certain the Ace and the Deuce know that.