Monthly Archive for September, 2015
At least when it comes to beer!
Take a look at this: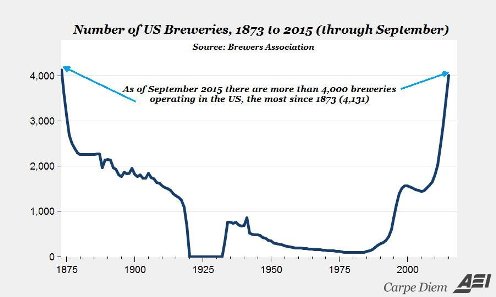 The chart is from Mark Perry.
I do love the beer choices available these days.
At the University of Missouri-Kansas City, only 35 percent of Pell Grant recipients graduate college, a rate that is more than 20 percentage points lower than that of their wealthier peers.
Why is anyone surprised by that?
I think, for you thinkers out there, that this is just another example of Reynold's Law in action.
The Rebels hand it to Alabama in Tuscaloosa 43-37. A big win. As is usual with an Alabama loss, there is always someone with some wit:
The Deuce goes to Ole Miss. I bet he had fun last night.
That is exactly why I was watching this video!
Those pieces fell out this afternoon while cleaning my gun. If you have a Mossberg 500 and need to take it apart for cleaning, watch the whole thing.
I call bullshit:
She discloses in a new memoir how she was abducted and sexually assaulted by a motorcycle gang in Ohio in the early 1970s – but concludes it was "all my doing" because of the way she was dressed and the fact that she was under the influence of drugs.
Women should dress modestly or expect to 'entice a rapist' – claims singer Chrissie Hynde – Telegraph
This seems awfully convenient. Just a little spice to sell some books?
I've followed The Pretenders since the late 70″s and I've never heard this story before.
This is an important follow on to the Codevilla piece below. Again, many of you have read this. For some it is just another spot on the internet where you can find it. Please pass it along.
Gonzalo Lira: The Coming Middle-Class Anarchy. A sample:
However, three months later, out of the blue, they got a letter from their bank, Wells Fargo: It said that, after further review, Brian and Ilsa had in fact not qualified for HAMP. Therefore, their mortgage would go back to the old rate. Not only that, they now owed the difference for the three months when they had paid the lowered mortgage—and to add insult to injury, they were assessed a "penalty for non-payment".
Really go read the whole thing. And all of the addenda.
I've saved the posts here in a small effort to make certain this story stays alive.
They vote Democrat more consistently than those who live on any of America's Dr. Martin Luther King Jr. Streets.
This is an important essay. I've posted a .pdf here. It is my small part to make sure this stays available. Many of you have read this. Please pass the link along to your friends.