Monthly Archive for November, 2015
More Crime Think from Sailer.
In the comment thread there is this hilarious exchange: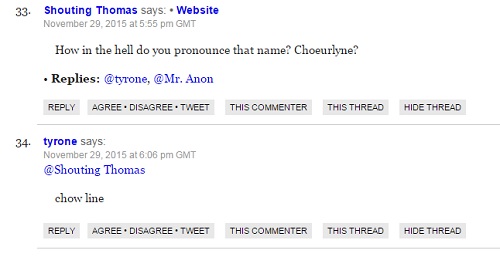 I don't think I've laughed so much at the written word in a long time.
I design kitchens using a premium European brand of cabinetry. I work for the U.S. arm of a European firm. We are going to have a price increase the first of January. We are having a price increase in the face of the Euro being at a low compared to last year, and this little bit of news:
Freight prices are at record lows not just due to weak demand, but overcapacity in shipping supply.
Source: Flexport
Just a bit from the post:
It costs $300 to move a 40-foot container from Rotterdam to Shanghai, which is barely enough to cover the cost of fuel, handling, and Suez Canal fees. Here's some more context. Let's say that you want to travel for a year; it's cheaper to put your personal belongings in a shipping container as it sails around the world than to keep it at a local mini-storage facility.
There is a very interesting chart over there too.
I've already asked once about the justification for the price increase. And like the good little soldier that I am, I will enthusiastically enforce the price increase. But… The economics of the situation tell me we should be getting a price decrease for the coming year…
Apparently the Deuce's roommate sells dope at Big State U.
I was talking to a woman in the showroom this afternoon. I'm not really good with accents, but I think she was Australian. In kitchen design I believe it is important to understand lifestyles, food preferences, family traditions, etc. So, not being completely confident of my knowledge of accents, I asked, "Where are you from?"
She replied, "I'm a citizen of the world."
Really. That is a direct quote.
Pretentious bitch.
I probably won't be selling her a kitchen.
I will have to tell the Allmilmö story sometime.
I used to work in higher education. I was in admissions at Directional U (we're going to ignore that wasted nine months running a business school in Mauritius). I also used to write and post more on the problems of higher education, particularly the problems with borrowing money to attend college. There are a lot of people that do  that better than me. I'm mostly going to leave it to them.
I am going to shift the focus a little.
I'm going to start posting about college and university athletic departments. When you look at a place like the University of Texas' Athletic Department, it is sort of easy to see and understand how it came to be in its current state. If you had no knowledge of college athletic departments (such as is the case in Europe), you would look at this arrangement and wonder how it is allowed to exist. There is no good reason for the UT athletic department to exist. The State of Texas' premier tax supported institution of higher education and research should not have attached to it such a large organization that adds nothing, or even subtracts from, it's core purpose. I do understand that UT's athletic department kicks money over to the general fund every year, but it is a rare exception among university athletic departments. UT is an exception, the vast majority of university athletic departments operate at a loss.
Most of the scholarship athletes do not belong in these universities. They just don't have the academic chops.
A significant number of these athletes are criminals.
I am not alone in my thinking. Victor Davis Hanson: End College Football.
Disclosure: The Ace spent two years at Arkansas. The Deuce attends Ole Miss. I do watch college football, but really remain puzzled as to why it exists.
You won't see this sort of report from the typical news outlet:
I don't think that many know that those streaming into Europe are mostly men of military age.
Tim Wolfe's response to a series of racist incidents has been considered inadequate.
If I were the president of the University of Missouri, I would take this opportunity to put the athletic department of a public institution in its proper place.
The Tigers would become a Div. III athletic department by tomorrow morning. There would be no scholarship athletes on my campus.
So we now know one of many reasons I'm not the president of Mizzou…