The athletic director at my daughter's high school is having budget trouble.  I am not surprised by this.  Every one is having budget trouble.  Part of his solution is to cut the size of the cross country team.  He doesn't do this in a straightforward manner; he instead invokes a previously unenforced rule.
I believe what he's really trying to do is to cut down on the expense of buses to meets.  That is a reasonable goal.  But why cut roster sizes for a sport that is known for allowing everybody to participate?  Why not ask us, the parents, if we would support a fee for the buses?
I really dislike this type of bureaucratic maneuver.  Instead of being honest, he tries to hide behind the authority of a higher governing body.  I have written the following letter to him:
May 21, 2011
 
Xxxx Xxxxxxx, Athletic Director
Xxxxxxxx Xxxxxxx Xxxxxx
0000 Xxxxxx Xxxx Lane
Xxxxxx, Texas 00000
 
Subject: Seniors on the JV Cross Country Team
 
Dear Mr. Xxxxxxx,
 
I have become aware that you may have taken the position that having seniors participate on the JV cross country team violates Section 86 of the TAPPS By-Laws.  If this is your position, I respectfully ask that you rethink this policy in light of the "every one participates" nature of cross country.  If this is a policy change being advocated by TAPPS, I request that you protest this policy vigorously.  A senior on the JV cross country team does not push a freshman off the roster; every team member gets to race.
 
Cross country has always been a sport of participation for all.  The typical meet consists of two races.  The varsity race, normally limited to a roster of seven for a given school; and the JV race, which is everybody else.  This is the history of the sport.  This is the way it was while I participated in HS cross country more than 30 years ago.  The fans of the sport understand this too; they cheer even the slowest runner in the JV race, regardless of school affiliation.
 
Being a member of the cross country team is an important part of the Xxxxxxxx experience for my daughter.  My daughter, who will be a senior next year, will be one of those cut from the team should this policy take effect.  Being cut from the team will be a huge disappointment to my daughter and me.
 
I coach the cross country and track teams at St. Xxxxxx Xxxxxxx.  I believe that participation in sports does more to directly prepare Xxxxxxxx students for a life at work better than anything they will learn in the classroom.  Participation in sports teaches kids how to work toward a common goal with people they both love and hate.  It is just like being at work.
 
Please do not deny my daughter this important educational experience.
 
Sincerely,
I'm certain keeping my daughter on the team will cost me some time and money between now and the start of the season next school year.  I really do think it is important for my kids to participate in team events.
Back in the dark ages when I was running cross country we didn't take buses to meets.  The kids with access to cars drove everybody car pool style.  We would go from Minneapolis to meets in Duluth, Rochester and Northfield.  There was never a problem.  And, this being the seventies, on the way home from the Swain Invitational (the big meet in Duluth) we were likely drinking beer.  We had fun in the seventies.  It was awesome to grow up in a time when there was no adult supervision.
I suppose having the kids driving to the meets is now precluded by the litigious nature of our society theses days.  That and the fact that the kids that ran cross country in the seventies are now parents and most of today's parents don't want their children to have the freedom we enjoyed.
Side Note: While googling around to find how to spell "Swain" and looking for the official website of the meet, I came across this blog: News Tribune Attic.  The blog goes through the archives of the Duluth paper.  It is a very enjoyable read.  I came across this post on the 1969 Swain Invitational.  It included this awesome photo: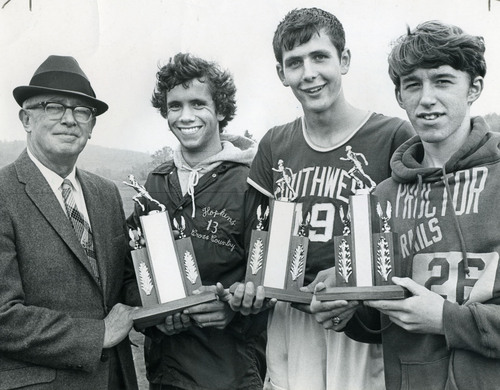 The caption:
…Swain (far left) poses with the champions of the 1969 event. From left, they are Tim Heisel of Hopkins (A race winner), Ed Holtz of Minneapolis Southwest (B race winner) and Tim Oliver of Proctor (sophomore race winner).
I was wearing the jersey Ed Holz wore that day seven years later.