Just spent a week in Grayton Beach.  It's one of the small communities known collectively as The Beaches of South Walton.  These communities run along state highway 30A between Destin on the west and Panama City Beach on the east.
We had a lovely vacation, the weather, for the most part, was wonderful.  The beaches were clean and free of oil.  There was, however, a lot of June grass so the water was less clear than during past visits.  The only thing that was bothersome was the oil spill clean up effort.
As I already stated, there was no oil.  None.  Anywhere that I went from Alligator Lake to Seaside.  But the army of Qualified Community Responders (they had t-shirts) were everywhere.  Here are just a few: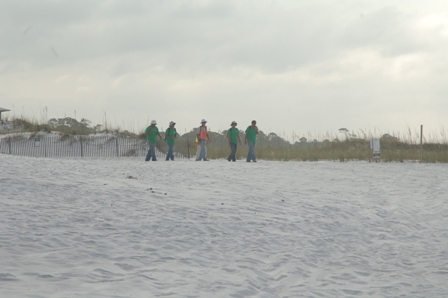 Since I'm not a reporter, and don't pretend to be one either, I never talked to any of these people.  They paired off and walked up and down the beach.  There might have been 50 yards between pairs.  There were hundreds of these people on the beach.  They also had equipment: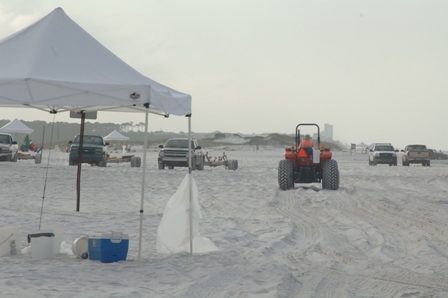 The little canopies with coolers with water were about every 300 to 400 yards.  The tractors were often pulling trailers.  Some of the trailers had port-a-potties on them for the use of the QCR's (Qualified Community Responder).  It was ridiculous.  Now I know it is best to be prepared, but do these people have to be out on the beach all day long?  Could they not have been held in some off beach marshaling area awaiting the looming disaster?  Maybe the presence of these people provide some with comfort and I am just not one of those people.  I was also wondering about the expense.  I know BP is ultimately paying for these people to spend the day on the beach, but should we not expect BP to hold its limited resources in reserve until there is really something to clean up?  Or, is BP just buying political favor with this army of beach wanderers?
I said I didn't talk to the QCR's.  That is not entirely correct.  One of them did show me about 3 little tiny tar balls.  He told me to be very careful about touching them.  I live in Texas.  When you go to Galveston Beach or South Padre, you will see much larger tar balls as a routine.  The tar balls I saw in Grayton Beach were so small that I believe they have always been there, people are now only finding them because they are looking so hard to find them.
I might have a couple more posts on my trip, and then some more kitchens and remodeling.