Posting may be light. Lighter than usual. The family and I are off to Hayward for a week.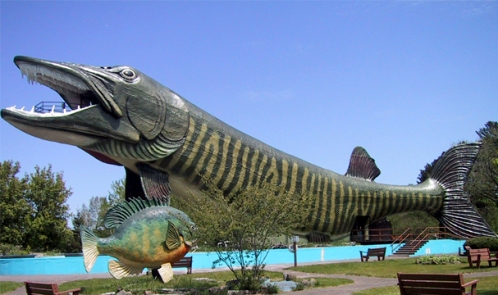 As you can see, there is a good opportunity to see some really wonderful kitsch. That is the Freshwater Fishing Hall of Fame. Cool, huh?
Check out this detail:
The mouth of that musky is an observation deck!
There is a lot of schlock in Wisconsin. Have you ever been to The House on the Rock?
I can't wait to take my wife to the museum. They have displays of old outboard motors! It will be so romantic.
This sort of stuff is uniquely American. I don't recall seeing anything as kitschy as this while in Mauritius. Or India for that matter.