We are surviving at the White Rock estate.
Barely.
But this is mostly because SWMBO's sister is here. She always presents a challenge to my patience. She likes to talk. Which shouldn't bother me much but she likes to talk about things I have no interest in at all.
I'm back working in the fermentorium. This is a bit of detail from yesterday's shot:
There will be a 50amp circuit for the eventual HERMS system that will go in there. That is the black wire on the left. There will be a 30amp circuit (black cable on the right) for an oven. The white wire hanging on the left is for lights in the fur down that will be built. The white wire hanging in the center will be for the vent hood that will be hanging from the fur down. It will be vented through the fur down. I am just going to cover the walls and then use an epoxy paint. I was going to tile it, but it is the garage. I don't need to spend that amount of time and money on the project.
I've done a lot of work in the garage over the last 8 or 9 months. I've insulated the space and installed a mini-split:
I've had the unit running often when it has been really humid. It dries the space out nicely and makes working out there a lot more comfortable.
I see that the government and all the other busy bodies are currently admonishing us for not enough social distancing. We are guilty. SWMBO and I went to Khao Noodle Shop last night for dinner. This restaurant was named the 2nd best new restaurant in the U.S. by Bon Appetit (I'm not going to bother with the special character). Dinner was amazing.
I can't remember the names of the dishes, but this is their Laotian take on Spam musubi: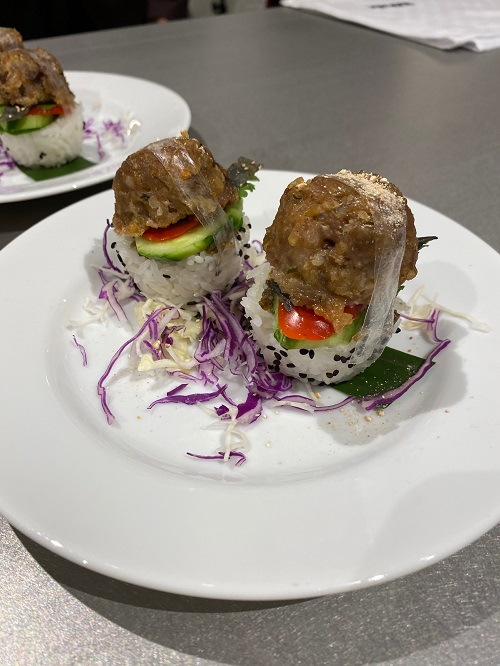 Simply delicious. We stopped at Bar and Garden on the way and picked up this bottle of wine:
It worked really well with the food. It is dry and has an earthy finish. It was great with the spicy dishes.
We also stopped by a small gathering on the way home. Had a nice visit with people that we haven't seen in a while. It was interesting that there was a lot of fun being made about the whole Wuhan Flu self quarantine and social distancing. There is also, as most of them listen to NPR as if what they hear comes from the burning bush, an undercurrent of concern that they/we are wrong to not take this more seriously.
There are now two sisters-in-law here. Conversation turns every once in a while to the economic catastrophe this Wuhan Flu is going to become. One SIL works in the convention biz. She is totally shut down. The other SIL here is a hairdresser. She's notice traffic dropping off the last week. I have a brother that is a bartender in a hotel. Room occupancy percentage is in single digits. I have a significant percentage of my income derived from commissions. My rich clientele are staying home. This is going to be rough.
I'll continue to post.
Tags: Bar and Garden Dallas, Fu Man Flu, Khao Noodle Shop, Kung Flu, Wuhan Apocalypse, Wuhan Flu