While the obvious bribery of the former Secretary of State will be her undoing as a presidential candidate, this really is the bigger scandal: The Clinton Foundation is nothing more than a money laundering operation.
Take a look at this graphic: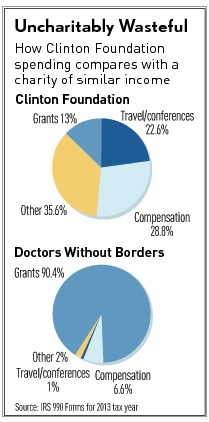 The Ace and I were talking about just this sort of thing last night. I had received an e-mail solicitation from a company I've done business with in the past to contribute toward earthquake relief in Nepal. I would never funnel my charitable contributions through a third party, I would send my money directly to the charity of my choice. Look at that chart to see why.