Posts Tagged 'Women'
Sunday, November 25th, 2012
Here is a photo of Denise Milani, a winner of some bikini beauty contest: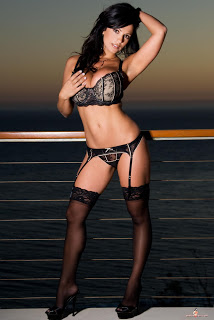 Here is a photo of former UNC professor Paul Frampton:
Professor Frampton flew from North Carolina to Bolivia to meet Ms. Milani. When he arrived in Bolivia, he was not met by Ms. Milani, but rather by some guy with a suitcase who sent him on to Argentina. The guy with the suit case told Prof. Frampton he would meet Ms. Milani in Argentina.
Prof. Frampton has just been sentenced to five years in prison for smuggling drugs.
I've read all of the article linked to above, and the other articles linked to within. It appears that Prof. Frampton never got the opportunity to meet Ms. Milani. The best part, is this is not the first time he's been the sucker in some long distance internet relationship.
Update: A quote from another article I just found on the case.
But at the heart of it is the question: how could an unprepossessing 68-year-old believe that a busty hottie might want to have him dip his rusty old spoon in her honeypot?
Really, this is the question, isn't it?